Starter Kit BMSPowerSafe
The BMS-PowerSafe Starter Kit is perfectly suitable when you will use one of our BMS for the first time. Indeed, integration of a BMS in a battery pack is a complex operation. Depending of the lithium cell chemistry used, the BMS parameters and algorithms must be tuned finely in order to reach the maximum performance of the battery pack but also for a safety issue. A bad parameter could lead to a major dysfunction of the whole battery pack system.
In order to avoid any safety risk, it is necessary to buy a starter kit when you use for the first time a BMS PowerSafe® BMS.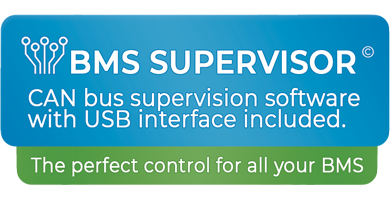 Besides, the Starter Kit will enable you to benefit from technical support, a dedicated application that allows you to control your BMS: the BMS Supervisor.
The Starter Kit is available for all our BMS (battery management system).

Benefit from all the features with the full version of the application. Control and customize your BMS and access the entire "black box" with the BMS Supervisor application. Our team will guide you in adaptating your BMS algorithms to optimize the performance of your battery. With this pack, you will also receive an extension of technical support.
This kit includes:
2 BMS with their display boards with harnesses
The BMS Supervisor application (Light, Silver and Gold levels) and its USB connector

Possibility to save the battery parameters history in a .csv file
Possibility to personalize some of the BMS parameters (current, voltage, temperature, …)
Possibility to read or reset the log of the "black box"

Adaptation of the BMS algorithms (adaptation in accordance with your needs)
1 year of technical support
Know more about it
Don't hesitate to contact us from our contact form.