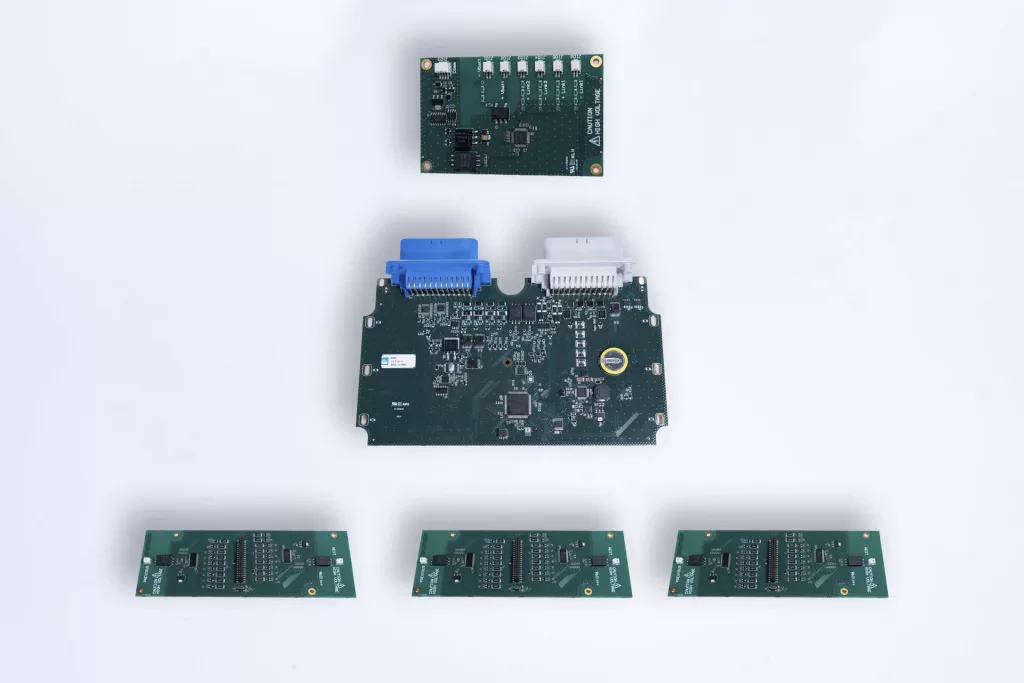 Technical description

Cells management

Master/Slave architecture
Possibility to connect up to 20 CMC in series to manage a battery pack with a voltage up to 1000 Volts
Possibility to connect up to 7 BMC in parallel thanks to an EMS
Management from 5 to 12 cells in series per CMC, compatible with all cell technologies (NMC, Na Ion, LFP, LTO…) :
o NMC/Na Ion : From 5S to 12S*
o LFP : From 6S to 12S*
o LTO : From 8S to 12S*
+/- 2 mV of accuracy
Management of 4 NTC temperature sensors per CMC


Protections

Overcharge and undercharge, tunable by software
Overcurrent and over/under temperature, tunable by software
Designed following ISO26262, equivalent ASIL B

Power box

Bidirectional measurement of the battery current with a hall effect sensor
Charge and discharge management
Command up to 4 external electromechanical contactors
Command up to 2 current sensors

Smart functions

SOC and SOH calculation
Advanced self-diagnostic of the board
Communication by 2 CAN bus 2.0B (opto-isolated)
Calculation of max charge and discharge current allowed.
Insulation measurement through an external board (bender)
Black box integrated with faults history storage and life counters
Possibility to modify the parameters (cells characteristics, alarms thresholds…) using the Supervision software
Passive balancing with a 150mA bypass current per cell

Spare IO (function can be customized)

2 High Side outputs
2 Low Side outputs
3 Analog inputs
3 Digital inputs
1 PWM input

Power supply

Power supply
The EMS and BMC are powered with an external 12V/24V power supply
The IMC is powered from the BMC
The CMCs are powered from cells
Low consumption in standby mode (on cells): < 5 μA

* 18S available on request, other configurations can be developed on separated demands.
Mechanical format

CMC: 103.5mm x 55.5mm
BMC: 227,6 mm x 130.4mm
IMC: 96mm x 64mm

* 18S available on request, other configurations can be developed on separated demands.